Mobile Marketing Ecommerce – Part 5
Seven Part Blogging Series – Part 5
Build a Business that Leverages Mobile Marketing & Ecommerce
Adding Global Ecommerce to Your Business is Easier Than You Think. In this 7 part series I talk about the 7 Secrets to creating a laptop lifestyle.    Did you know that Mobile Commerce Sales in 2018 Set to Exceed Total E-Commerce Sales of 2013?   An amazing explosion is upon us as mobile commerce trends point to unprecedented growth. The data suggests that most of it will come on tablets. Is your blog or business participating?
Here are a few other amazing stats:
191 Million people shop online (just North America)
78% of the American population shops online
45% of the 2014 holiday spend came from online purchases
$1.5 Trillion a Year is spent online
That's a massive shift of purchasing power and chances are pretty high you contributed to that total this year. So, here's a question for you? Are you positioned to take advantage of this massive trend?
Imagine all the people sitting at their computers buying stuff. Amazon purchases of garbage bags and Canon 5Ds, felted animals on Etsy, Ikea rugs, trampolines from Walmart.com, diapers from Diapers.com, stamps from Stamps.com, etc.
That's e-commerce, and it was a roughly $638 billion business last year.
M-commerce is different: It's the stuff you buy on mobile devices like smartphones and tablets. And we all know it is growing fast. Walmart's head of digital innovation stated that, last year, more than 50 percent of the visits to their website were coming on mobile devices.
Recently, newly minted investor Om Malik posted Goldman Sachs quantitative forecasts for that growth. Goldman says that by 2018, we'll be seeing roughly as much mobile commerce ($626 billion) as we saw in e-commerce last year. In the shorter term, we're talking a tripling from 2012 to 2014 <<< Read that again.
I would note that one number—or really, one ratio—seems worth thinking more about. Check out the stats: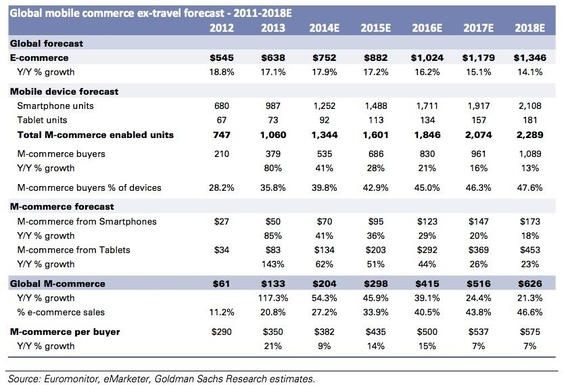 Goldman's forecast here is that most m-commerce will be tablet-based. While they predict smartphone-based e-commerce growing at $20-$30 billion a year, they see a massive explosion in tablet-based sales.
What if you could position yourself to get in front of this trend and actually profit from it? You actually can, learn how right here.
Another way to logic-check this Goldman forecast is that they see a bigger increase in m-commerce on tablets between 2013 and 2014 alone than the entire smartphone m-commerce market in 2013. What we've seen is tablets, despite relatively low prices and wide availability, experiencing steady growth—while smartphone traffic, on the other hand, has exploded.
Secret #5 Find a Business Where You Can Leverage Mobile Marketing & Commerce

It's a pretty exciting to think that you really can combine automated technology, an amazing value proposition and the scalability offered by the Internet. The technology of today has made it completely possible for anyone to start a business.
What's even more incredible, is that you really can do it for next to nothing in terms of start-up costs. Click the How To Blueprint below for more information.
So, as I briefly explained in this short blog, Secret #5 to Living the Laptop Lifestyle is to Build a Business that Leverages Mobile Marketing & Commerce capabilities.  Click here to check out Secret #6. Build a business with Passive Income.
###
There are no secrets to succeeding with online marketing, you just need to set up the right kind of business structure, understand the formula and build out the process.
Check out my blog: Discovering the 7 Secrets to living the laptop lifestyle.